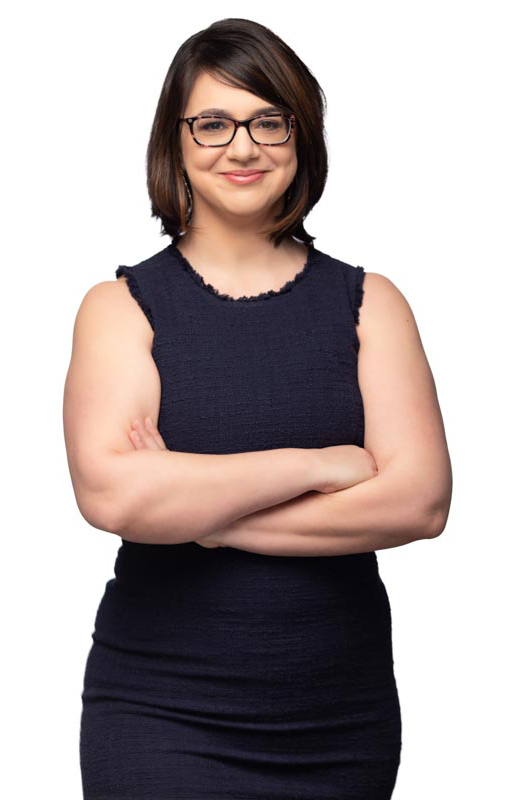 Kristina represents clients in divorce and custody cases throughout Maryland.  As a seasoned divorce attorney, Kristina has litigated complex cases involving the validity and enforceability of prenuptial and postnuptial agreements, alimony, division of property, monetary awards and attorney's fees. 
Kristina's practice also involves high-conflict custody matters.  As a certified best interest attorney (BIA) and mother of two herself, Kristina is attuned to the concerns of the parent and the needs of the child.  Kristina recognizes that each custody case presents its own set of unique challenges, some of which may implicate allegations of child abuse.  She helps the client find common ground to resolve the custody and child support dispute as the circumstances merit, and she vigorously advocates for the client when a compromise simply is not in the child's best interest.
Kristina is well–versed in multi-faceted financial disputes involving marital assets and sources of income.  Most spouses or parents are not straightforward W-2 earners.  One or both may have grown a business during the marriage or generated income in other ways.  Kristina can navigate through the complexities of evaluating pre-marital interests and business valuations in the context of a divorce and calculating the reasonable financial needs of the child in the context of child support.
Having represented a range of diverse clients, Kristina is sensitive to the intersection of culture and the law and the impact that culture has on marriage, divorce and family dynamics.  She proudly served as both trial and appellate counsel in Nouri v. Dadgar, 245 Md. App. 324 (2020), a reported case of first impression in Maryland which involved the validity and enforceability of an Islamic marriage contract under Maryland law. 
For most clients, experiencing a divorce and/or custody dispute is one of the most emotional, stressful and trying time of their lives.  Throughout her many years as a family law practitioner, Kristina has learned that every client has a story worthy of being heard.  Kristina listens intently and strives to understand her client's concerns and objectives.  She takes a deep dive into the nuances of relevant facts, analyzes the strengths and weaknesses of the case, and presents the client's story clearly and persuasively.  In the courtroom, Kristina is a fierce and tenacious litigator.  She knows how to read the room and adjust to the variables that inevitably arise during trial.
Kristina recognizes the significance of building relationships not only with her clients, but also with her colleagues in the bar and other industry-specific professionals to include financial planners, estate planners, forensic accountants, tax professionals, business valuation providers, private investigators, custody evaluators, and mental health professionals, some of who may become involved in a client's case as an expert, consultant or other helpful resource.  The relationships that Kristina has cultivated over many years of active bar involvement enrich the legal community and add value to her client relationships.
In her free time, Kristina enjoys spending time with her family, crafting, baking, reading and walking through Rock Creek Park.
Education & Certifications
American University Washington College of Law (J.D., 2005)
University of California San Diego (B.A., 2001)
Certified as a Best Interest Attorney (BIA) for Minors
Bar Admissions
Notable Cases
Nouri v. Dadgar, 245 Md. App. 324 (2020)
Wilson v. Wilson, 223 Md. App 599 (2015)
Professional Affiliations
Montgomery County Chapter of the Women's Bar Association: President (2020–2021); Co-Chair of the Triennial Auction Committee (2019-present); At-Large Member of the Executive Committee (2014-2019); Member (2006-present)
Women's Bar Association: Member of the Executive Committee (2020-2021); Member of the Judicial Selections Committee (2014-present); Member (2006-present)
Bar Association of Montgomery County: Chair of Nominations & Elections Committee (2021- present); Chair of Judicial Selections Panel Committee (2018-2019); Member of the Racial Justice Council (2020-present); Co-Chair of the Family Law Section (2013-2014); Member (2006-present)
Maryland State Bar Association: Vice Chair of the Judicial Selections Committee (2021- present); Member (2006-present)
Montgomery County Inns of Court: Associate (2006-2007); Barrister (2014-2017, 2019-2022)
Special Honors
Maryland Bar Foundation Fellow (2021)
Washington D.C. Super Lawyers (2021)
Maryland Super Lawyers (2019-2021)
Maryland Super Lawyers Rising Stars (2012-2018)
Recognized in the 27th Edition of The Best Lawyers in America© (2021)
Recognized in the 25th Edition of The Best Lawyers in America© for work in Family Law (recognized since 2018)
Co-Chair of the Year by the Bar Association of Montgomery County for Leadership of the Family Law Section (2014)
Montgomery County Bar Leader (2014)